As an organization, one of the greatest benefits of being present on social media, especially a platform like Twitter, is that you can directly converse with your audience. Not only can you understand your TG better, but you can also participate in public conversations and build a unique brand voice.
Since having meaningful conversations with your audience is an important part of every marketing strategy, and one that's proven to drive measurable results, it's a good move to familiarize yourself with Twitter Spaces.
What is Twitter Spaces?
It is an audio-based chat room. You can either participate in one or host one. While it was initially rolled out only to certain devices and to people with a minimum number of followers, it is now available to all Twitter account-holders.
With the launch of Twitter Spaces, you have one more channel through which you can connect with your audience. Take a look at the various ways in which you can leverage Twitter Spaces.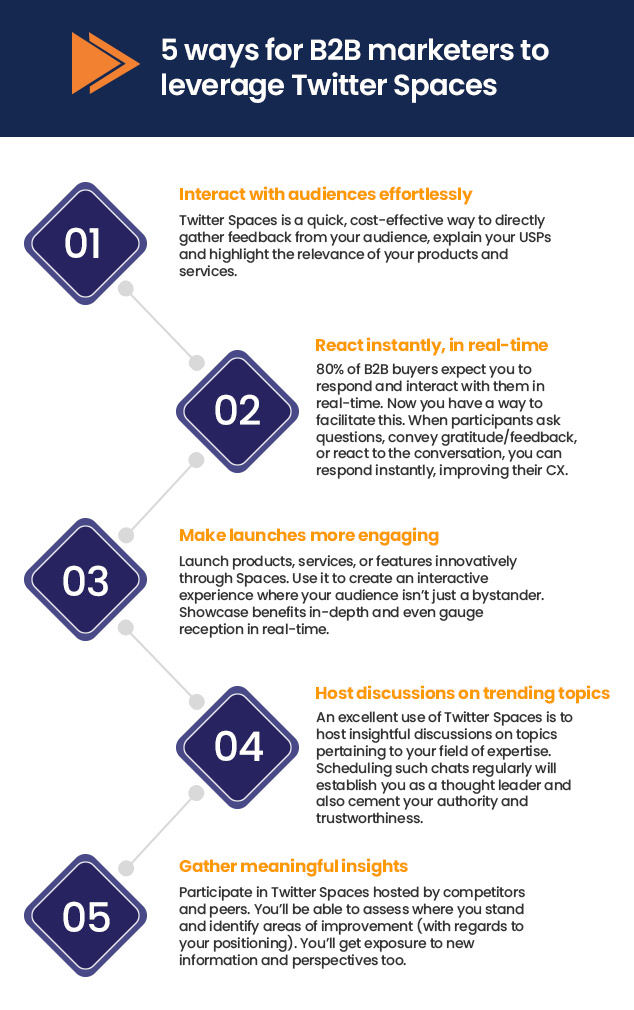 Perhaps the greatest benefit of an audio chat room is that it instantly humanizes your brand and makes it more accessible. This is certainly a big reason why platforms like Clubhouse, LinkedIn Audio Event, and Twitter Spaces are gaining popularity amongst individuals as well as B2B and B2C brands. If you have already tried Twitter Spaces, share your learnings in the comments below. For more insights and assistance on acing social media, be sure to get in touch with our expert team at Resolute B2B.