Account Based Marketing is a marketing strategy to cater to the needs of companies that are aiming to acquire high-value customers. In Account-Based Marketing, the message that has to be conveyed to specific audience is personalized to resonate with them. Account based marketing has been on the rise since organizations are increasingly favoring the focused approach. 
As the definition goes Account based marketing is a strategic approach which marketers use to support a defined universe of accounts, including strategic accounts and named accounts. Research suggests that Account Based Marketing has much higher ROI compared to other marketing approaches.
If acquiring high-value, high-quality leads is your business priority, Account Based Marketing (ABM) campaigns are for you! A culmination of marketing and sales, ABM campaigns boost engagement and drive revenue in a short span of time. More importantly, they cater to the audience's demand for personalized and contextualized communication.
Choose Resolute B2B for your next ABM campaign as we bring to the table years of experience, a hyper-focused approach and a unique skillset that will help you distinguish your business from your competitor's.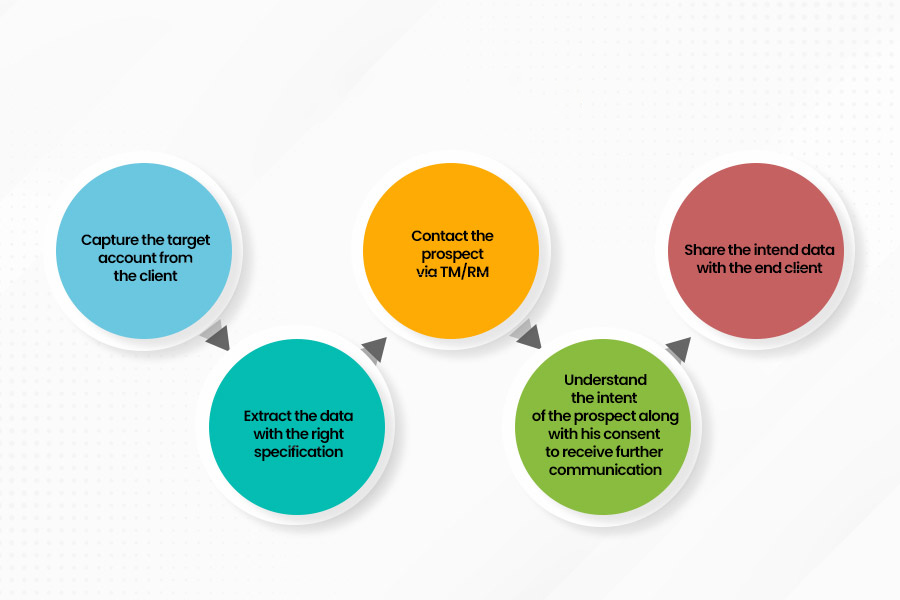 While Account Based Marketing plays a key factor for our clients, we leverage intent leads by extracting the right set of leads from the target accounts.
Our Data sources hold the right information of the potential prospects who can be targeted for marketing the client's products.
NSL Arena Tower-1, 3rd Floor, Wing B Building, NSL SEZ Pvt. Ltd, IDA Uppal, Hyderabad, Telangana- 500039

USA: +1 (302-664-8181)
India: +91 9666 769 766

info@b2bresolute.com
Learn More About Resolute B2B
View and download our media kit
Account Based Marketing with Resolute B2B provides clientele to :
Benefits of ABM Campaigns
Target high-value accounts
Speed up the sales cycle
Accelerate profitability
Secure higher-value opportunities
Identify Targets
The campaign begins with collecting an account list and identifying high-priority accounts as per your specifications.
Extract Data
Once segregated, all relevant data is extracted. The extracted data is further refined as per pre-determined criteria.
Contact Prospects
We contact prospects through Relationship Marketing (RM) or Transactional Marketing (TM) as per long- and short-term goals. While RM is more of a market-oriented approach, TM is product-oriented.
Understand The Intent
Thereafter we understand the purchase intent of the prospects and the stage that they are at in their buying journey.



Share Results
Finally, we share the results with you, our client. It contains a list of high-priority prospects, specialized data and corresponding insights pertaining to purchase intent.
What Makes us The Best in The Business
Agile approach
We know that every client has different needs that evolve over time as well. To offer ideal results no matter what the circumstances, flexibility is a key component of all our campaigns.
Meticulous tracking
At Resolute B2B, we continually measure, learn and optimize. We also pride ourselves on 100% transparency and so, we track an ABM campaign minutely and share regular updates with you.
5+ years of experience
Our diverse, hyper-focused team of experts have 5+ years of experience. Their nuanced perspective and skillset help us deliver results that exceed your expectations time and again.
FAQS
ABM Campaigns Frequently Asked Questions
Browse through our FAQs to find answers to common ABM campaign queries. Need more information or want to discuss your requirements? Contact us.
An ABM campaign is highly targeted and precise. It brings together sales and marketing to create personalized communication that resonates with your audience. Data suggests that ABM campaigns help boost revenue, build brand loyalty and positive brand perception. Companies have generated 200% more revenue while using ABM in comparison to those who haven't, a recent survey revealed. It also showed that returns saw a 10% increase when ABM services were used for at least a year.
When you outsource account based marketing, you can free up your sales and marketing teams to work on more important tasks such as closing deals. Moreover, outsourcing is cost-effective, efficient and scalable.
Contrary to popular belief, you do not need to invest a huge sum of money in an ABM campaign. There is something for every budget.
ABM is a refined, targeted strategy. It takes into consideration the best-fit accounts and how they can be turned into customers. Moreover, ABM campaigns feature personalized, contextual information for prospects, which aligns with the changing landscape of how your customers want to be spoken to. Instead of simply receiving messaging, they want to be engaged and conversed with. In fact, this forms the foundation of all good ABM campaigns.
Account-based content marketing is about creating personalized content for your prospects. Here, the content is curated to target the lead's pain points and addresses their needs.
Want to know more about ABM Campaign Services?
Get in touch
Write in to us with your queries or requests