To create the right sales funnel and to ensure the leads have a high capability to be converted to a sales qualified lead would be our ultimate goal, our expertise through digital marketing and tele marketing have delivered over 24,000 leads over the last 1 years across MQL, HQL & SQL leads by targeting the right set of prospects who have the need to address the organizations pain point with a certain time frame.
A constant flow of leads is what any business needs to thrive and succeed. At Resolute B2B, we have over 5 years of experience in supplying your sales funnel with quality leads. We not only help you get in touch with high-quality, superior prospects, but also assist you with nurturing them until they convert to customers.
Through our expertise in digital marketing, telemarketing, account-based marketing and other arenas, we have delivered over 24,000 MQL, HQL and SQL in just the last year. We're experts at identifying whom to target, and how.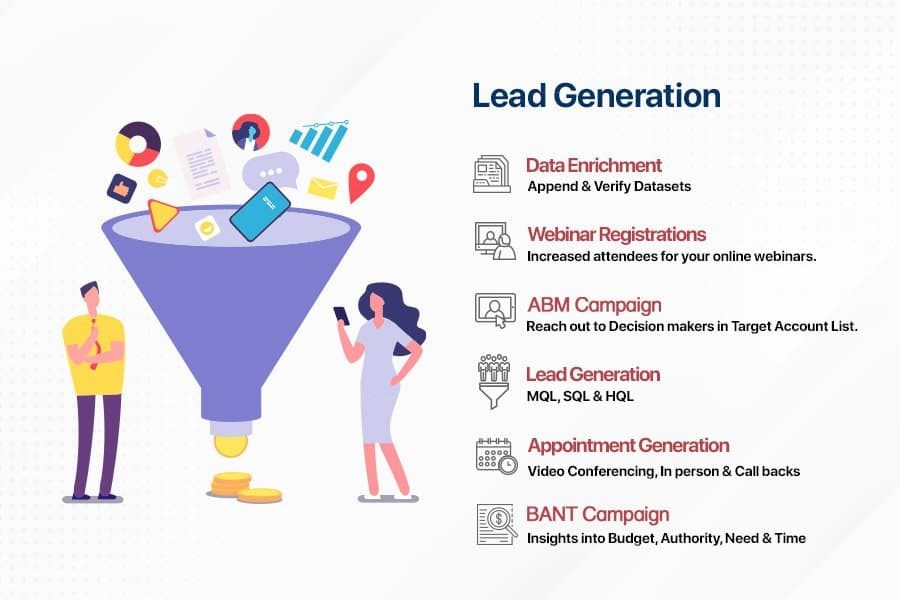 NSL Arena Tower-1, 3rd Floor, Wing B Building, NSL SEZ Pvt. Ltd, IDA Uppal, Hyderabad, Telangana- 500039

USA: +1 (302-664-8181)
India: +91 9666 769 766

info@b2bresolute.com
Learn More About Resolute B2B
View and download our media kit
What is Marketing Qualified lead?
Contacts who identified themselves as sales-ready are more deeply engaged than your usual leads but aren't quite ready to be labelled as opportunities. Contacts that are decision makers, influencers or recommender who download your e-book might be considered as marketing qualified leads if they meet the target industry, revenue, or business size you sell to.
Why Marketing Qualified Leads?
MQL are very important to creating a healthy sales funnel and these leads can be nurtured as sales qualified lead.
"According to Gleanster Research- 50 percent of leads are qualified but not yet ready to buy"
While you may get SQLs by filling out a demo or quote request on your website any given week, there are chances that you may have a number of prospects visiting and converting to leads through your website; however those leads don't quite qualify yet. Nurturing marketing qualified leads is the only way to ensure that these contacts will continue with their buyer's journey and lead towards purchasing your services, solutions or products.
Every lead received in your database cannot be bombarded by sales emails, similarly not every sales qualified lead will become your customer. However, marketing qualified leads can be nurtured into sales qualified leads.
MQL & SQL- Difference
The basic difference between MQL and SQL is – Marketing qualified lead is a visitor who knows about their problem and Sales qualified lead is who believe that your products are relevant.
Marketing qualified lead may not be ready to buy but Sales qualified lead can be approached by your sales team. SQL is in purchase cycle while MQL is not ready for purchase yet.

Why Resolute B2B- MQL & SQL
We understand your campaign specification – geography, industry, company size, job title & revenue.
Our lead generation experts do an in-depth study of your content which requires promotion.
We take "opt in" confirmations from all prospects before sharing your content and also make them understand what the content is all about.
We ask them for future engagement.
We use BANT approach for sales qualified lead.
We use only qualified leads which are generated using several lead generation strategies.
Benefits of Lead Generation Services
Generate prospects rapidly
Boost revenue
Improve brand perception
Save time and resources
Eliminate cold calling
Increase market reach
Our Lead Generation Services
Data Enrichment
We verify and augment raw data with contextual information, to provide you with data sets that enable informed decision-making.
Appointment Generation
We specialize in B2B appointment generation through customized solutions. This helps you improve conversion rates and close more deals.
Webinar Registration
We secure the right audience mix for your webinar, from contacting prospects and helping them register to collecting feedback.
BANT Campaign
We use the Budget, Authority, Need and Timeline framework to streamline lead qualification and determine lead prioritization.
ABM Campaign
To help you acquire high-value clients and improve profitability, we offer Account-Based Marketing campaigns that feature a hyper-personalized and strategic approach.
A Powerful Lead Generation Strategy
Outsourcing lead generation to experts is said to be 43% more efficient than generating leads in-house. Moreover, detailed lead management strategies and necessary follow-ups yield a 75% increase in the number of leads.
But, for lead generation to bear fruit, you have to invest time and resources. At Resolute B2B, we do exactly this. We identify the right set of prospects, and design and execute a customized strategy. We pass on only those leads that are qualified using one of our several effective lead generation strategies.
Our approach is customer-centric and we are involved at every step of the way.
Our Lead Generation Process
Defining a Lead
Our team determines what a 'quality lead' looks like for your business. Then, they move on to defining its attributes.


Marketing Automation
From our arsenal of lead generation automation tools, we pick the ones that will be most suitable for your needs, and to what extent they will be used.
Lead Generation
Once the prospects are identified, we employ a variety of strategies to capture a lead. We offer multiple options such as PPC, ad marketing, etc.
Lead Intelligence Gathering
Upon capturing qualified leads, the next crucial step is to gather detailed information on them. We keep track of pain points and triggers in their buying journey.
Lead Segmentation
Based on the rules defined in Step 1, we segregate the leads depending on their quality. Thereafter, we create personalized marketing campaigns for each persona.
Lead Nurturing
We continue to monitor an acquired lead and influence its progress until it reaches the precipice of conversion.


Assign Leads
Once leads cross a pre-determined threshold, we supply them to your sales team. We use automation workflows for a smooth transition.


Sales Nurturing
We continue to maintain the relationship with your customers so they continue to remain within your circle. Our sales teams employ CRM and other lead intelligence tools to do so.
Reporting
Our sales and marketing teams continue to keep track of the leads and sales strategies employed through sales funnel tools. The analysis helps better the strategies.
What Makes us The Best in The Business
100% customization
Our approach to lead generation is customized based on your unique requirements. This enables us to provide quality leads and facilitate profitable conversions.
Data-driven analytics
We rely on data to formulate sharp strategies. We ethically capture user information and analyze it before curating a way forward.


5+ years of experience
Our diverse, hyper-focused team of experts has 5+ years of experience. Their nuanced perspective and skillset help us deliver results that exceed your expectations time and again.
FAQS
Lead Generation Frequently Asked Questions
Browse through our FAQs to find answers to common lead generation queries. Need more information or want to discuss your requirements? Contact us.
Yes, it is possible to generate leads in-house, but it is difficult to maintain a steady stream of leads over an extended period of time. Not only is outsourcing to experts cost-effective, but it also helps you secure many more high-quality leads in a shorter span of time.
When you choose a top lead generation agency like Resolute B2B, our experts use multiple channels to acquire leads and constantly optimize the approach to drive better ROI. This results in a well-oiled sales cycle and better quality of leads.

Resolute B2B is one of the best lead generation companies in Hyderabad. In the past year we have generated over 24,000 leads.
If a strategy yields leads, it is successful! However, to make sure that we're doing the best we can for you, we constantly optimize our strategy and see how we can turbocharge it for maximum ROI.
Want to know more about Lead Generation Services?
Get in touch
Write in to us with your queries or requests