Whether your goal is expansion, communicating with your audience or ultimately boosting conversions, appointment generation services provide great value to your business. Not only does it get your business noticed, it strengthens your sales cycle by providing you with quality leads in a cost-effective manner.
At Resolute B2B, we offer appointment generation services to big and small enterprises. We take on this task for you so that you can save time, resources and money. You can focus solely on interacting with qualified leads and closing deals smoothly.
Our team comprises experienced B2B marketers with superlative communication skills. They understand your audience's unique behaviors and markers, and deliver the pitch to perfection.
One of our core areas of expertise is B2B appointment generation/setting. We have customized solutions for our clients to boost their existing B2B Appointment Generation efforts, driving increased conversion rates and helping close more deals.
We are helping start-ups, small and medium enterprise companies with finding decision makers and setting up appointments with their sales team. We help our clients spend more time meeting with qualified prospects rather than looking for them, or having to qualify them.
Our in house sales ninjas generate qualified appointments with decision makers hence freeing up our clients sales team allowing them to concentrate on their core competency, i.e. selling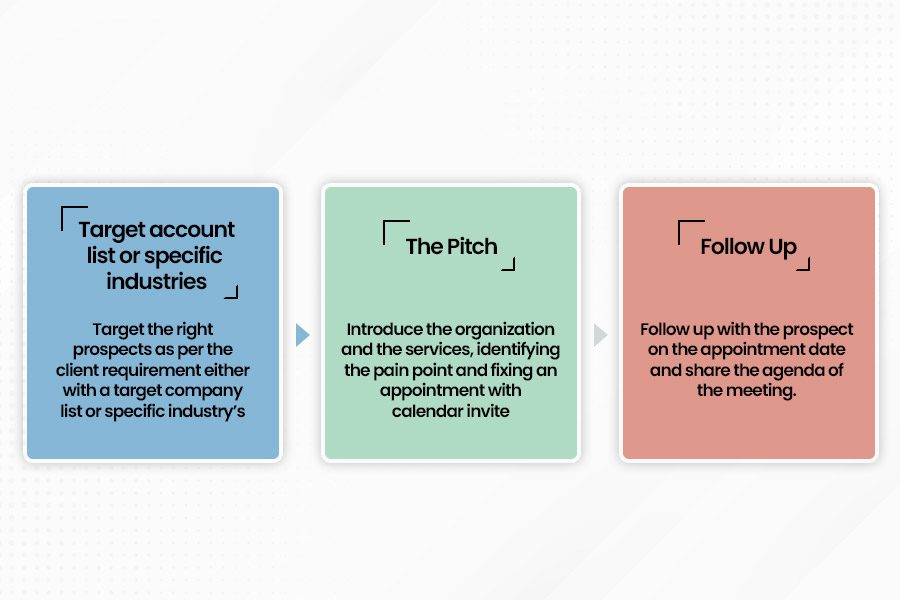 NSL Arena Tower-1, 3rd Floor, Wing B Building, NSL SEZ Pvt. Ltd, IDA Uppal, Hyderabad, Telangana- 500039

USA: +1 (302-664-8181)
India: +91 9666 769 766

info@b2bresolute.com
Learn More About Resolute B2B
View and download our media kit
"A research shows that around 75% of the total sales effort is consumed by scheduling appointments."
Our proven Appointment Garnering process to qualify sales leads will help your company with the below:
Benefits of Appointment Generation Services
Improve lead quality
Save time and money
Promote your product/service
Build trust amongst your audience
Our Appointment Generation Process
Define a Target
The process starts with defining who the target is. We carry out an in-depth study of your requirements and define the segment, industries or companies to be approached.
Research and Prospecting
Next, we identify sales opportunities within the target group. This increases the chances of actually setting an appointment.


Appointment Setting
Our appointment setters introduce your organization and its products/services. We cultivate purchase intent further, and aim to fix an appointment between the lead and sales rep.
Follow up
Our team follows up with the prospect on the appointment date and shares the agenda of the meeting. Thereafter, we connect your sales rep and the lead via teleconferencing.
What Makes us The Best in The Business
Superlative services
Our team scores every lead to ensure that it meets the criteria. Moreover, a dedicated account manager updates you at every step of the way through reports and review calls.
End-to-end assistance
Before meetings, we provide a detailed lead report to your sales team for the appointments that we secure. This seamless yet meticulous handover protocol improves chances of conversion manifold!
5+ years of experience
Our diverse, hyper-focused team of experts have 5+ years of experience. Their nuanced perspective and skillset help us deliver results that exceed your expectations time and again.
FAQS
Appointment Generation Frequently Asked Questions
Browse through our FAQs to find answers to common appointment generation queries. Need more information or want to discuss your requirements? Contact us.
A third-party appointment generation company connects with your audience on your behalf and creates a list of highly qualified leads for you. By laying the groundwork, we ensure that your sales reps don't have to waste time on qualifying leads. Instead, they can simply focus on closing the deal.
A number of factors determine the cost of appointment generation. So, we request you to get in touch with us with your requirements. This will allow us to give you an accurate estimate.
Our efficient agents are trained to protect your image and highlight the value that you offer to prospects. During all interactions, our appointment setters act as members of your organization.
To ensure that everyone is on the same page, before we embark on the appointment setting journey, all our agents are briefed about your company, the appointment generation strategy, how to find key decision-makers, how to address pain points, and more.
Absolutely. We understand that this may be necessary, therefore it is completely okay for you to adjust qualifications after a period of time as per your needs.
Want to know more about Appointment Generation Services?
Get in touch
Write in to us with your queries or requests