B2B email marketing is one of the oldest tools of the trade, and for good reason too, as it offers numerous benefits. For instance, it can aid in lead generation (85%), sales (84%), lead nurturing (78%), brand awareness (77%), and engagement (76%). It can also be used for customer retention (74%) and to create brand advocates (61%).
However, to get the most from this digital marketing tool, having a strategy in place that guides your email marketing efforts is quintessential. This typically encompasses the process of designing emails, the flow of content, refining the subscriber list, and deciding the timeline. Today, we're focusing on one aspect of this process—understanding the various types of email marketing campaigns and when you should use them.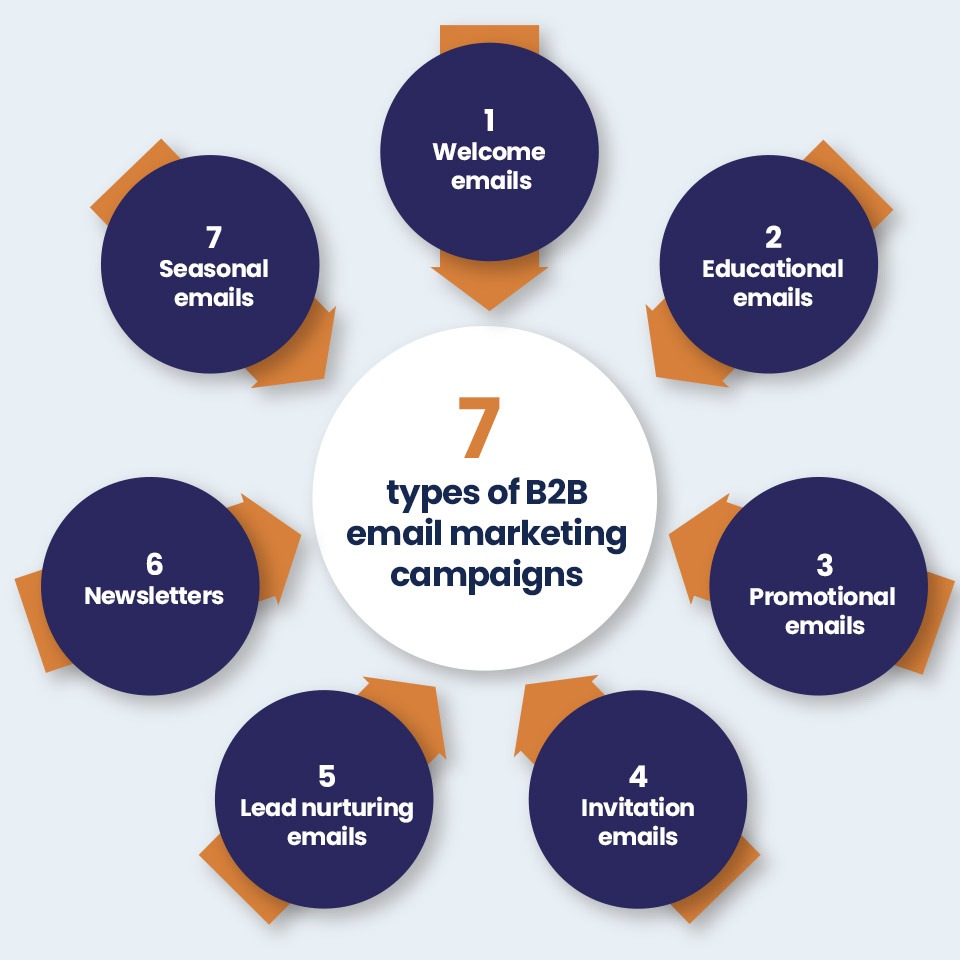 Welcome emails
This email campaign is triggered when a prospect purchases your product or service. Similarly, it is also the first email that a subscriber receives after submitting their contact details on your website. Since the first impression matters most, your message should be short and impactful. With an open rate of an impressive 57.8%, this is certainly one email series that you should incorporate into your strategy.
Typically, the emails you send out in such a campaign should include:
Links to your social media pages and website
Contact information
Frequently asked questions
An introductory guide to your products and services
This will ensure that you provide maximum value to your subscribers, and also streamline the purchase and on-boarding process.
Educational emails
Such an email campaign helps you educate prospects about your company, your products and services, and most importantly—how they align with your prospects' needs and pain points. This approach cements you as a domain expert, so as and when a need arises, prospects are likely to seek your services immediately. In an educational email campaign, you can send curated blogs, whitepapers, and eBooks as you publish them on your website, since the core intent is threefold: build awareness, establish a need and communicate your expertise.
Promotional emails
Via a promotional email campaign, you can give subscribers access to a limited-period discount offer, a free demo, or a limited-edition product/service. When your emailers feature clever copy that creates a sense of urgency, they give prospects the push they need to convert to customers. With this type of email marketing campaign, you can significantly increase your conversion rate, provided that you clearly showcase how you effectively bridge a gap that your target audience is facing.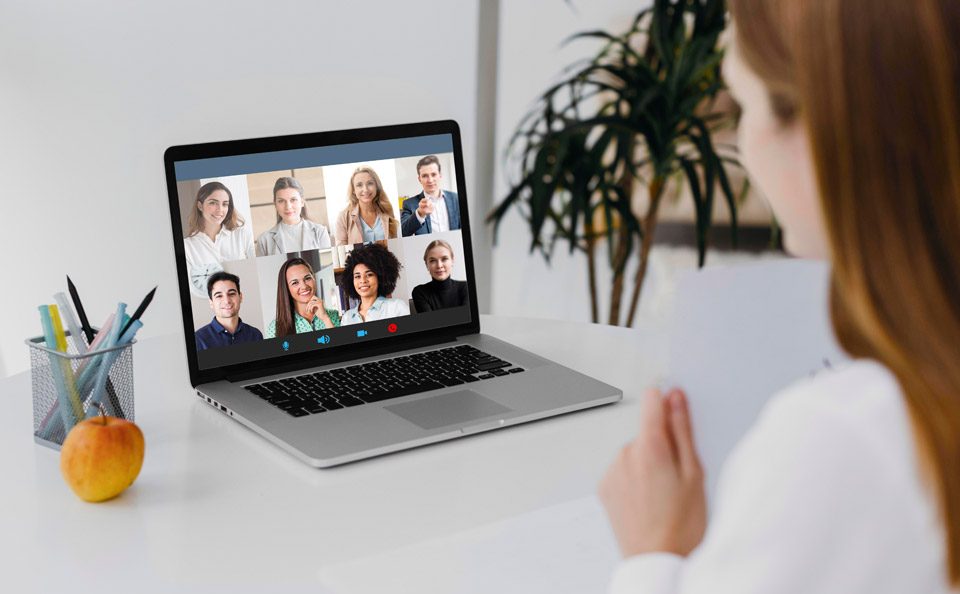 Invitation emails
This series of emails is pertaining to any event that you may host, be it a Twitter Spaces conversation, an in-person conference, or a webinar. In such a campaign, you use targeted emails to encourage registrations, build interest around the topic of the event, spotlight key speakers, and even further your company's position as a thought leader.
What's more, post the event you can send emails summarizing key points and steer subscribers towards a CTA of your choice–whether it's learning more about the product/service in question, or purchasing it. In this manner, invitation emails help generate interest for a particular event in the short-term, and a renewed interest in your organization in the long-term, even after the event is over.
Lead nurturing emails
This type of email campaign comprises a set of highly-targeted, personalized emails that are sent based on a prospect's position in the purchase journey. In other words, you can observe prospective customers and their behaviors, and send them tailored emails that will guide them towards the end of the sales funnel.
For instance, assume that Jane follows your social media accounts and has downloaded an eBook from your website too. You can send a mail that acknowledges her interest and rewards it with a coupon code that gives her access to a free, 7-day trial. Similarly, assume that Manny has enquired about a particular service via a phone call, but hasn't followed up ever since. You can send a series of emails that elaborate on the service's value, your USPs pertaining to it, and even case studies, if possible. The aim is to gently nudge the prospect towards considering a purchase, over some time, without resorting to hard-selling that can agitate them.
Newsletters
Usually, newsletters feature informative updates and are one of the most used B2B email marketing campaigns. They are very effective since they serve the dual purpose of educating and entertaining the audience. As they are devoid of a hard-sell approach, clever newsletters can actually boost traffic. By sharing unique content, you can also enhance brand recognition amongst your target audience. Should you maintain delivery frequency and concentrate on the design and content, you are likely to see a positive impact on leads and sales too.
Seasonal emails
Festive occasions are important for all kinds of businesses, even B2B entities. You can use a series of seasonal emailers to build a connection with current and prospective customers during festive periods. The key here is to only target the holidays that suit your line of business and resonate with your audience. Also, don't wait till the last moment. Plan ahead and time your emails well, so that your communication stands out in the flood of emails that your subscribers are likely to receive during festive periods.
As a B2B organization, specifically, you can make seasonal emailers about reselling, cross-selling, or upselling, as many businesses have unspent/surplus budgets at the end of the year. You can also use seasonal emails to thank subscribers for their business and support. This acts as a refresher to those who may have forgotten about your business, and in the process subtly builds brand recall. Lastly, you can even express your gratitude by offering a freebie.
On the whole, seasonal emails work incredibly well when it comes to re-targeting and building trust amongst your audience.
In addition to these ideas, you can run email campaigns that:
Feature brand stories to improve perception and reputation.
Supplement existing social media campaigns or offline campaigns.
Are geared towards employee engagement.
The key is to ensure that you provide concrete value, without being intrusive.
To drive these email campaigns to fruition, enlist the experts. At Resolute B2B, we offer end-to-end assistance with email marketing campaigns, from conceptualization and strategizing to execution. Contact us to learn more about how you can benefit from our comprehensive services.