Through digital marketing, you can inform your audience about your organization and the kind of product/service you offer. The intention is to interact with your target group in a way that inspires confidence in your abilities, creates or highlights a need, and triggers a purchase. What's more, it's also an effective way to showcase your ethics, credibility, expertise, goodwill in the industry, and more.
And yes, you can undertake digital marketing in-house. So why should you bring someone else on board? Because in-house digital marketing is easier said than done. Digital marketing strategies are dynamic and complex. Connecting with your target audience at the right time, and saying the right thing requires a lot of research, skill and understanding—not to mention a significant investment of time, money, and other resources.
This is why it is immensely beneficial to collaborate with experts who can handle digital marketing for your organization. When you partner with an expert to take on digital marketing, you can make the most of the various digital marketing tools—such as content creation, web design and development, social media management, SEO, PPC and email marketing—and enjoy better business outcomes. Don't take our word for it! Take a look at what the numbers have to say.
Digital marketing is the third-most outsourced service when it comes to small businesses.
84% of B2B marketers outsource content creation.
68% of B2B marketers said they would invest in an outsourced SEO strategy.
If you're still not convinced, take a look at how partnering with digital marketing pros can benefit you.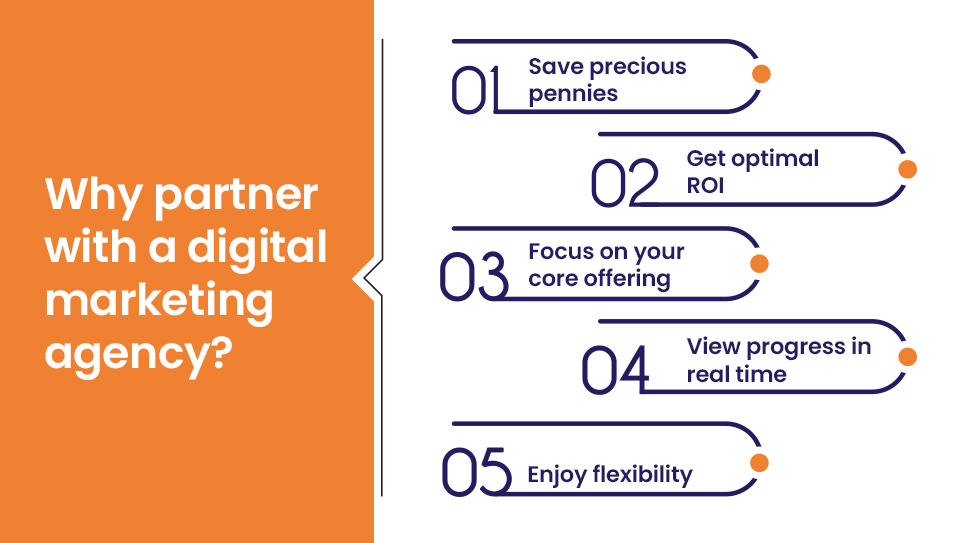 Save precious pennies
When you collaborate with a digital marketing agency, you get access to quality content writers, strategists, SEO experts, social media experts, graphic designers, automation tools, latest software, and more. Imagine investing in all of this yourself. It would be an enormous undertaking, not to mention an expensive one. What's more, it'll be incredibly pricey to further scale the team or train employees. This is the top reason why partnering with a digital marketing agency is ideal. You get access to the best quality resources, without having to make a hefty investment. Additionally, you can scale up or down speedily, as per your requirements.
Get optimal ROI
When you entrust digital marketing to an agency in exchange for a fee, the agency is obligated to take all the necessary measures to provide you with the Return on Investment (ROI) that you expect, within a stipulated time frame. In fact, this is a given. You may or may not get optimal ROI when you dabble with digital marketing in-house, because of the lack of a contractual obligation, as well as the trial and error involved.
Focus on your core offering
Say you hire an agency for your SEO and PPC campaigns. Now, you only have to ensure that you receive the deliverables that have been promised to you. The digital marketing agency will take care of everything else. In the meantime, you can focus on other pertinent matters such as improving your core offering, business expansion or lead generation.
View progress in real time
When you engage a third-party agency, they are liable to submit weekly, or monthly reports on how your digital marketing campaign is performing. You can then analyze the report to confirm whether everything is going as per plan. The agency also gives you an outsider's perspective on the campaign's performance. And since they are the experts, you can also use their insights to make necessary changes to the strategy.
Being able to view progress in real time and access insights from the best in the business is invaluable. Since their opinion, inputs, and advice are rooted in years of experience, it's nearly impossible to replicate this in-house, especially overnight.
Enjoy flexibility
Digital marketing is a dynamic entity, where things are constantly changing and evolving. For you to get the most from digital marketing, keeping pace with these changes is absolutely imperative. This can be taxing, but not if you bring the experts on board. With a sharp understanding of the industry, agencies are adept at identifying which trends you should pay attention to and the ones you can let go of. Similarly, they upskill rapidly and can help you use the latest tools and techniques to your advantage to drive superior results. Best of all, agencies are equipped to deal with uncertainties. They thrive in such environments and have the wherewithal it takes to help you come out on top, no matter what the situation.
Now that you know why you should trust the experts, here's how to determine whether or not you need the experts. If you identify with one or more of the statements below, you need help!
Not getting any traction through emailers
Lack of engagement on social media
Weak digital brand presence
High bounce rate on your website
Low conversions via a landing page
Missing SEO strategy
If you're convinced that you need help from a digital marketing agency, look no further than Resolute B2B. Our team offers end-to-end digital marketing assistance and has the experience needed to provide you with tangible results. Call us today to learn more.