As we are on the precipice of 2022, there's one thing you need to know about lead generation: Going forward, B2B lead generation via digital channels will outshine offline lead generation. While COVID-19 initiated the change, digital lead generation is gathering momentum and will only gain more prominence in the new year.
A study found that over 70% of B2B decision-makers opted for digital communication over an in-person sales pitch. The reasons ranged from reducing travel expenses to ease of scheduling.
Buyers are willing to spend anything between $50,000 and $1 million by getting in touch with a remote sales representative or via digital self-service.
With this underlying thought in mind, take a look at key lead generation trends to watch for in 2022, and tips on how to make the best use of them.
Video conferencing
Video conferencing and live video are going to be important lead generation tools in 2022. The need for both skyrocketed amidst COVID-19, and the demand is unlikely to die down now that people have had a taste of the convenience and ease that it offers. In fact, a report stated that B2B decision-makers found video interactions better than communicating over a phone. This included interactions with existing and potential customers. So it comes as no surprise that video interactions accounted for 69% of revenue in April 2020 alone.
What's more, 85% people are of the opinion that they would like to see more videos from brands, and 87% marketers have enjoyed excellent ROI from video content. This creates a win-win scenario. So, in addition to video conferencing, be sure to utilize the potential of clever video content.
Value-based selling
The days of a hard sell are well and truly over, and the consensus is that this approach is unlikely to work in 2022. It might drive away your prospect, ruining your chances of converting him/her into a valued customer. The safest option for you as a B2B entity is to personalize all your communication and opt for value-based selling—an unmissable lead generation tactic for 2022.
Focus on buyer personas and thoroughly research them to know their likes and dislikes. Next, dive into how your product or service will be beneficial to each audience segment and how best to convey this. Identify changing behaviors and trends and use them to communicate with your target audience in real-time to show that you care. Informed assistance will improve the prospect's experience, thus increasing the chances of conversion. The key takeaway here is to train your lead generation executives on how to offer value to audiences at each stage of the purchase cycle. It's the simplest and most effective way to build a competitive edge.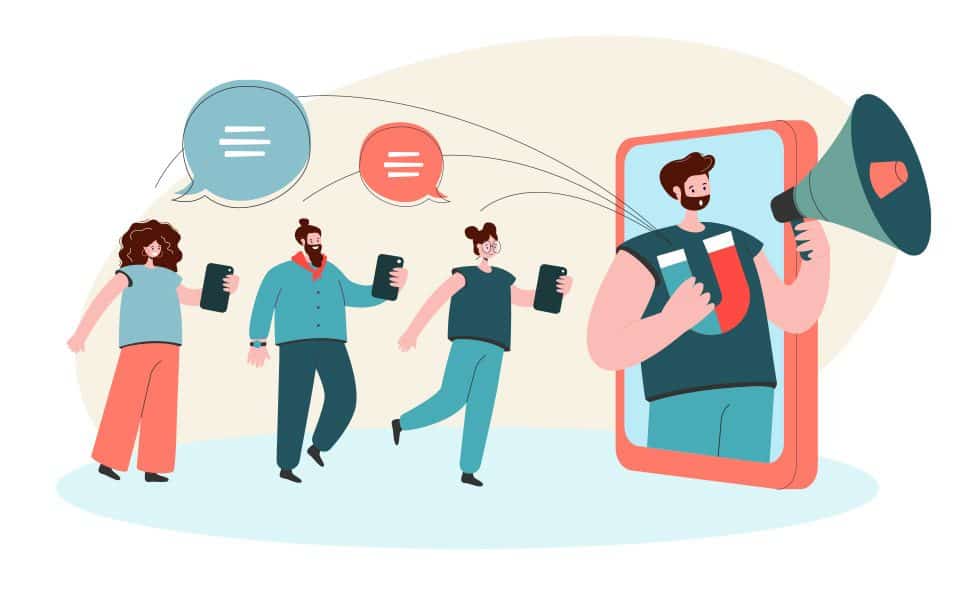 Influencer marketing
B2B decision-making takes a long time, involves many stakeholders and multiple rounds of deliberation. This is where you can use influencers to sway the needle in your favor. This trend has been growing in the past few years and studies have found that 78% of leads trust influencers, while 63% of people agreed that influencer marketing has improved their overall marketing strategy. What's more, 73% of people felt that influencer marketing improved prospects' experience with a brand.
When you choose the right influencers—people who are experts in your field and have a voice that carries weight—you can leverage their credibility and use the faith that the industry has in their opinions to get qualified leads. An endorsement by a trusted influencer helps prospects make a favorable decision, and that too much more speedily than they ordinarily would.
When choosing an influencer, his/her trustworthiness and experience must be deciding factors. The influencer must be capable of educating your target audience about your products/services and reassuring them so that they're motivated to make a purchase. To make the most of influencer marketing, select your influencer with utmost care and then operate off of a strategy.
Hybrid lead generation
As we approach a new year, understand that employing inbound or outbound marketing techniques should not be mutually exclusive. Each technique has its advantages and disadvantages, but your leads do not see them as two separate channels. For them, it is a means to know more about you and your offerings. Moving forward, blend them to have a hybrid lead generation approach. Why not create a holistic strategy that combines the best of both worlds?
Contextual advertising
One way of contextual advertising is selecting webpages that are most relevant to your brand and displaying your ads only there, as opposed to on any and all pages. Let's assume that you sell digging equipment. An example of contextual advertising would be placing your ad on a webpage that talks about the construction industry. This way you make sure that only interested audiences see your ad, and that they're hooked via relevant content. Once people click on the ad, you collect their information and they become your leads.
Contextual advertising is not an intrusive lead generation technique. In fact, it is considered to be helpful. Best of all, a survey revealed that favorability towards a brand rose by 22% when a business used contextual advertising.
Interactive emails
If you think that email marketing is no longer relevant, you need to see these numbers. 79% of B2B marketers said that they found email campaigns to be the most effective. Also, emails have much better ROI than many other lead generation tools. So to stand out from the crowd in 2022, make your emails eye-catching.
Use visually-led communication containing call-to-action buttons, interactive surveys, videos, images, or infographics. To rope in a lead, build a strategy that tells a story about your brand and your products or services. Create a series of emails that narrate brand values, your mission, case studies, customer testimonials, and any other interesting information that can attest to your credibility and steer purchase. Make the intended audience invested in your company so that when they decide to make a purchase, they come straight to you.
While the industry will evolve and 2023 will bring with it a whole new gamut of futuristic lead generation trends and innovations, one thing will always remain constant—the need to provide 100% customer satisfaction. To facilitate this seamlessly and generate leads at the same time, constantly upskill your team. Gathering, nurturing, and generating leads online using these new techniques is a whole different ball game, so providing adequate training will help your team capitalize on this shift, while keeping customers happy.
Should this seem like a big undertaking, partner with the best lead generation agency. At Resolute B2B, we track, break down and utilize the latest lead generation trends so that you don't have to. We keep you ahead of the curve by crafting impeccable strategies that cater to your business goals as well as your audience's needs. Contact us right away to discuss your requirements and give your business the head start it deserves in 2022.