Marketing metrics you should track
Digital marketing offers businesses innovative ways to connect and engage with their audience. And, with growing technological advancement in this arena, you not only have tools that help you achieve your varied business goals, but also ones that help you measure just how effective your efforts have been. For instance, you can do this simply with the help of marketing metrics such as marketing spends, cost per lead, and conversion rate.
Tracking these metrics provides you with a straightforward way to assess your success. It allows you to appropriate time and resources efficiently to achieve even better outcomes. Best of all, this data helps you refine your approach on the go, in real time, and maximize productivity and profits.
If you're wondering what are the marketing metrics that you should keep an eye on, here are 5 basic ones to get you started.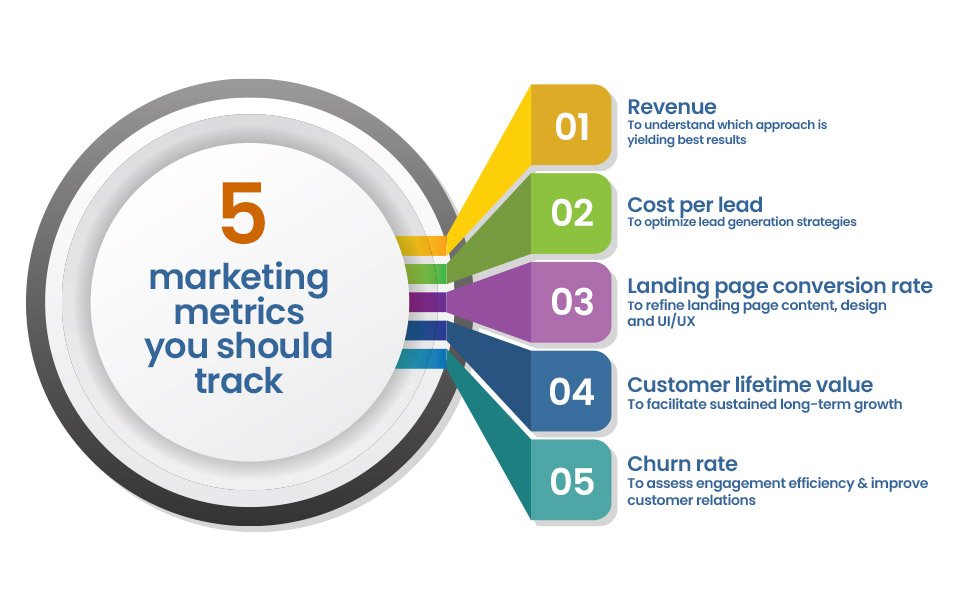 Revenue
The main objective of any business is earning a profit. So, first things first, it's imperative that you track your marketing efforts over multiple channels and determine how much revenue each channel is generating. Tracking revenue is necessary to direct finances to the channels that bring in the best results.
Cost per Lead
Lead generation is the first step for any sale, whether it is a product or service. But, simply knowing the number of leads generated isn't enough. For you to understand the efficacy of your marketing and lead generation efforts, it's important to know the cost per lead for each channel that you target.
If a channel costs more, it does not mean that you stay away from it. In fact, sometimes you'll find that platforms with a higher cost per lead will yield customers who spend more as well. Also, the prospect might go through different social media channels before conversion. Hence, tracking the cost per lead is necessary to get a comprehensive picture.
Landing page conversion rate
A landing page is a great way to generate qualified leads. While you can lead your audience to your landing page via a compelling Call to Action (CTA), it is the landing page content that persuades a visitor to provide their information to register, sign up, buy or learn more, and in the process turn into a lead.
Therefore, tracking the landing page conversion rate is absolutely essential. If it's poor, you know that while you are leading people to it, the content, visuals and/or UI/UX aren't enticing enough for a person to turn into a lead. Tracking this metric will help you understand the changes that need to be made to the content and design to persuade the visitor to complete the journey that you have in mind. Once optimized, it will help improve conversions by leaps and bounds.
Customer lifetime value
A customer's lifetime value is a measure of how valuable a customer has been from the time of conversion till the time the analysis is conducted. As it has a direct and significant bearing on your profits, having a deep understanding of this metric is key. After all, it allows you to develop a water-tight customer acquisition strategy that goes beyond one-off sales and yields sustained growth over a lengthy period of time. When you pay attention to this metric you can secure repeat sales in addition to upselling and cross-selling opportunities.
Churn rate
Churn rate helps you understand how many customers you are losing and how quickly you are losing them. As this harms your bottom line, you need to know the churn rate to assess your engagement efficiency, to take necessary actions to remedy the situation and build long-standing relations with your customers.
While your instinct may have a bearing on how you take certain business decisions, it isn't wise to base them entirely on this. By tracking marketing metrics such as the ones outlined in this article, you can ensure that you are spending wisely and making the adjustments that you need to make to your strategy. In a nutshell, tracking these marketing metrics will set you up for success!