2021's Demand Generation Benchmark Study states that 61% of B2B marketers invested in ABM or Account-Based Marketing in the past year. Moreover, as per the Information Technology Services Marketing Association (ITSMA), almost 81% of B2B marketers confirmed that implementing ABM strategies resulted in higher returns. Yet another study conducted jointly by ITSMA and ABM Leadership Alliance found that post the pandemic, 42% of marketers switched to account-based marketing techniques.
Why are we telling you this? It's because if you haven't taken the time to understand how ABM can benefit your business' bottom line, do so today!
What is ABM?
One approach to lead generation is casting a wide net with the hope of capturing as many leads as possible. The logic here is that the more leads you have, the more you can convert. While this is one route, ABM is more focused. The aim is to cut down on wastage of time, energy and resources, and double down on converting those within your audience who have a demonstrated inclination to buy your product/service, and also those for whom budget is not a constraint. In other words, targeting high-value accounts.
When you go the ABM route, your sales and marketing functions come together to identify, engage with, and close such high-value accounts. While a broader approach may seem prudent, ABM offers better ROI—a prime reason why it's worthy of your consideration. With personalized cross-channel communication at its core, ABM also helps build engagement, and can even speed up the lead acquisition and conversion rate.
In an age where every buyer, be it in the B2B or B2C space, expects the purchase experience to be personalized, with hyper-tailored communication that's relevant to him/her and the individual buying journey, a strong ABM campaign can position you leagues ahead of your competitors.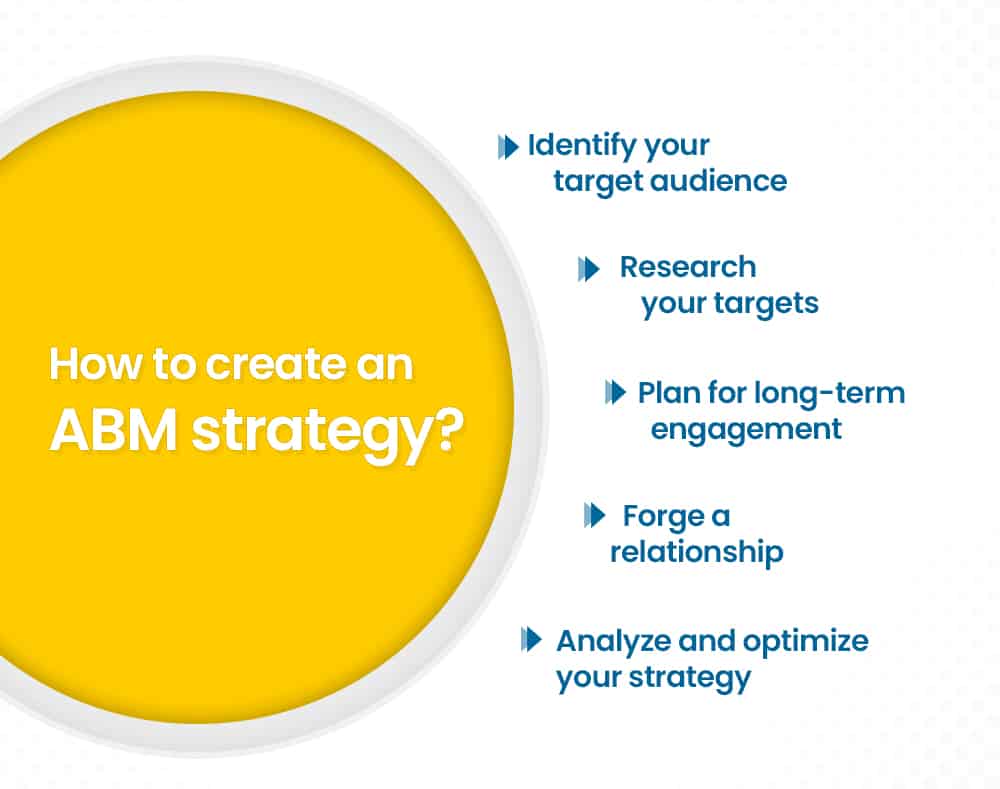 How to create an ABM strategy?
Now that you know what account-based marketing is, follow these steps to kickstart your campaign.
1. Identify your target audience
Like any other marketing strategy, the ABM process begins with identifying your target audience. The difference is that for account-based marketing, you pick high-value and high-priority accounts.
High-value prospects, once converted, will contribute to your revenue in greater measure. Meanwhile, high-priority prospects are those who have shown heightened interest in your products or services. Thus, the chance of conversion is high.
2.  Research your targets
Once you have chosen accounts to target, the next step is to research their needs. Identifying their requirements and understanding purchase urgency is crucial to curating an effective ABM strategy—one that will give prospects the nudge they need to convert. After you understand the decision-making process and the key players involved, you can determine how best to get their attention and then create a customized marketing funnel.
3. Plan for long-term engagement
The next step is to create a plan to consistently engage with accounts. Typically, an account-based marketing campaign lasts for a few weeks or a few months. So, you must design it in a way that the content you deploy holds attention and keep interest ignited till conversion.
4. Forge a relationship
Building a healthy and long-lasting relationship should be another priority. Once you have gotten a prospect to convert, ensure that you continue to give them an enriched experience through top-notch customer service and valuable content. Also, create enough room to up-sell, cross-sell or smoothly facilitate repeat transactions.
5. Analyze and optimize your strategy
This is at the crux of any ABM strategy. The market is volatile, and the needs of prospects keep changing over time. You must adapt your campaign to address these evolving needs and behaviors. Also, you must be open to making changes to even the most well-thought-out plan basis the insights that you gather.
Let's assume that you have decided to include personalized emails as part of your strategy but are failing to get any traction through them. Take a step back and assess what the problem could be. Is the copy not compelling? Is your audience averse to emailers? Are you sending too many or too few? Based on the answers, rework your strategy. Remember, an optimized strategy is a successful strategy!
Implementing account-based marketing increases revenue, boosts brand image, and establishes a stronger relationship between you and your target audience. And while it isn't expensive to execute, it does require nuance and finesse. So, instead of opting for a trial-and-error approach, trust experts like Resolute B2B. Our experienced team knows exactly how to create and manage the perfect ABM campaign based on your unique objectives. Contact us today to know how we can help you.