The Complete Guide to Video Marketing
Video marketing is all about strategizing, creating, publishing, and promoting video content to market products, services, or a brand. They help increase engagement, build awareness, educate your target audience and boost reach. While video marketing was once restricted to YouTube only, today Facebook, Instagram, TikTok, and LinkedIn are all key players.
In the post-pandemic era, video marketing has become even more important as your audience is now physically distanced from you. A report by HubSpot said that consumers preferred to watch a video instead of reading a product description. Another study found that videos have helped customers make a purchase decision (Forbes).
So, here's everything you need to know about video marketing and how you can harness it to your business' advantage.
Benefits of Video Marketing
1. Promotes brand recall
With videos, consumers find it easy to recall a brand. A Forbes report said that viewers retain 95% of a message when they watch it on video, compared to only 10% when reading it as text.
2. Boosts your SEO
Search algorithms prefer video content over other kinds of content, and shoppers are twice more likely to make a purchase if the product description has a video.
3. Influences buying decision
A Forbes report indicates that 90% of viewers are biased towards making a decision after watching a video. And since they have a high retention rate, videos are more likely to be shared too. In fact, 70% of customers said that they have shared a brand's video.
4. Improves conversion rates
Research from Aberdeen Group concluded that video users have 27% higher click-through rates and 34% higher web conversion rates. Additionally, conversion rates increased by 86% after videos were used on a landing page (EyeView Digital).
How to Create a Video Marketing Strategy?
Here are 7 tips that will hold you in good stead.
1. Determine what you want to convey
Before setting up, recording, or editing anything, you need to decide what you wish to convey. Together with your marketing and sales team, understand the goals that your videos aim to fulfill. This saves time and effort, streamlines the process, and ensures that everyone is on the same page.
2. Choose your target audience
Pick a user persona that you are targeting. This may be your usual buyers or a segment of your audience that you haven't tapped into thus far.
3. Set your video goals
What are your goals? Is it awareness and education, communicating product/service USPs, increasing conversions, or boosting engagement? This will help you make your video communication more targeted. Also, once you define your goals, set the metrics against which you will measure their performance.
4. Decide where you want to publish
Before you begin creating a video, decide on what platform you want to publish it. Each social media platform has its own distinctive video formats and guidelines that have a direct bearing on video production.
5. Create a realistic budget
What kind of video do you want? Is it going animated, live-action, or a montage with a voice-over? Your selection will determine the budget. This is an important step as you want to spend in line with the ROI that you're expecting.
6. Keep SEO in mind
Following SEO best practices and including relevant keywords is essential to a good video marketing strategy. It helps maximize reach and betters your ranking in the process.
7. Promote your video
Once the video is posted, promoting is the next most important step. Pay special attention to this aspect to scale reach and impact.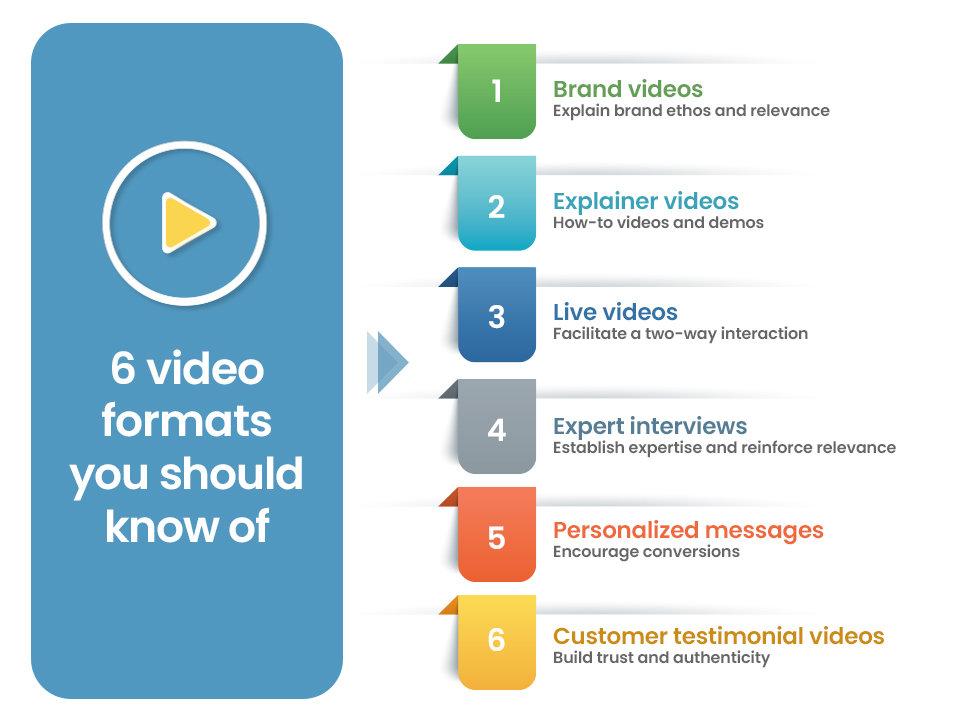 Types of Videos You Can Produce
1. Brand videos
Branded videos are more about your company and less about a specific product or service. They help build brand perception and recall, and put you on your target audience's radar.
2. Explainer videos
Explainer videos are used primarily for sales and marketing purposes. They showcase a company's latest product or service, or an innovative business idea. The goal is to build relevance for the solution, explain how it works, and establish the fact that it adds value to your audience's lives.
While some explainer videos check all three boxes, others simply focus on one aspect. For instance, you can create 'how-to' or demo videos for your product to break down complex concepts and help your audience understand your relevance at their own pace. As of 2020, 86% of people said that they wanted brands to produce more videos and 14% of them wanted them to be demo videos (Wyzowl). The good news is that these also help with SEO! 
When it comes to such videos, quality is of prime importance. Poorly edited and low-quality videos drive away customers. Reports suggest that 62% of consumers shy away from a brand that shares low-quality videos, so invest in good production.
3. Live videos
Live videos are a great way to build a personal relationship with your target audience. While traditional marketing and advertising involve you talking to your audience, live videos facilitate a two-way conversation. You can use these videos to explain concepts, address queries and even get feedback.
4. Expert interviews
These videos typically feature an interview with an in-house expert or feature a panel of industry experts and leaders. They can be helpful tools to drive systemic change, whether it's switching over to new technology, or making key investments.
Such videos go a long way in establishing your expertise, quelling uncertainties and doubts amongst your target audience, and subliminally reinforcing the relevance of what you have to offer.
5. Personalized messages
Want to creatively converse with your audience? Instead of an email, send a personalized video message. Such videos create a delightful, memorable moment and can give prospective clients the push they need to finally make a purchase.
6. Customer testimonial videos
It's human nature to want to know whether a product/service is worthwhile before buying it. What better way to convince prospective customers than by getting loyal ones to speak about their positive experience? Don't have a high production budget? No problem. The best part is that these videos can even be shot in selfie mode by your customers. If anything, it adds to the authentic feel, so don't shy away from them.
No matter what the nature of your business is or how extensive your budgets are, there's a video marketing approach that you can zero in on to serve your business goals. As consumers spend more time watching content than reading, there's no time like now to kick start your video marketing efforts!